Axial angle apparatus, model II
R.Fuess Berlin-Steglitz
Axial angle apparatus, model II, signed: "R.Fuess Berlin-Steglitz".
Lacquered brass, nickel plated brass and oxidized brass. Graduated circle diameter: 16 cm, height: 32 cm. Circa 1900.
This type of instrument was originally invented by Des Cloizeaux in 1864 and executed by Soleil. Essentially it combines two components:
The graduated circle of a Fuess # 2 goniometer with suspended crystal holder.
The optical parts of a polariscope that can be inserted horizontally in collars of two vertical columns.

This model can also be supplemented by a collimator and an observation telescope with the crystal holder pointing upwards to be employed for
goniometric and spectrometric observations
. In that case it is named a universal apparatus. The crystal has to be mounted facing upward only once for orientation and alignment of its axis in goniometric work. The entire adjustment device and crystal is then reversed on the same instrument axis facing downward for the determination of axis angles. This facilitates research to a great deal.
This is an early example of modular construction and multiple uses of components. Instruments of this type made before 1891 were mounted on a solid wooden or cast iron base instead of the later three pins. In 1907 construction was discontinued as it was replaced by the Wülfing model.
Bibliography: Medenbach O., Mirwald P.W., Kubath P., (1998)
Kristalle und Licht Drehmethoden in der Mineralogie
, Mineralien Welt
9
(2), 17- 32.
private collection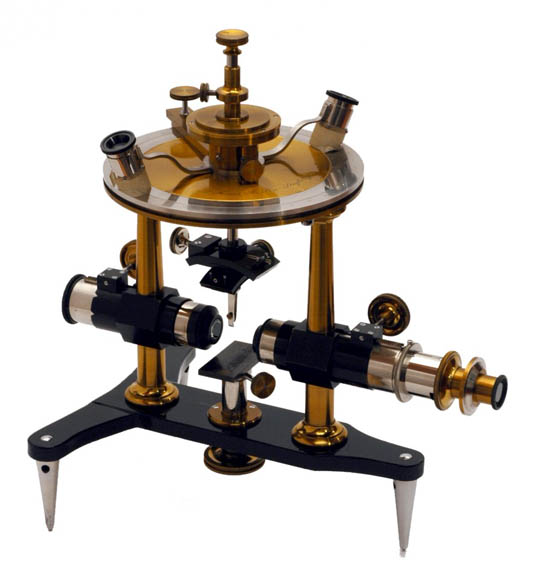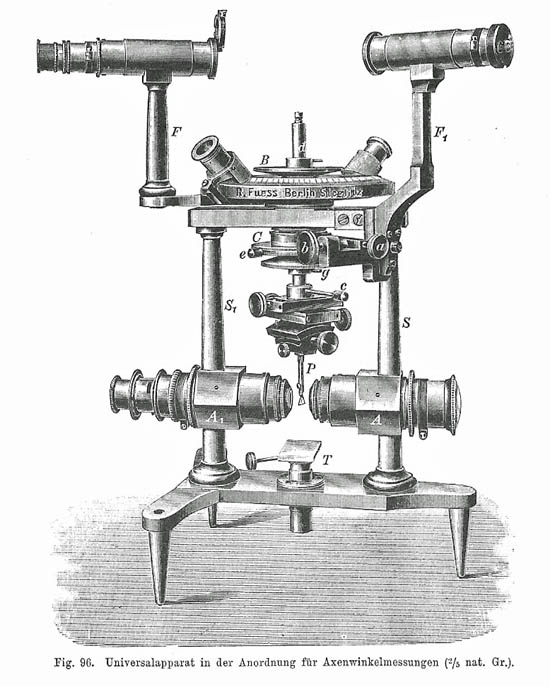 Universal apparatus as depicted in Leiss, C. (1899)
Die optischen Instrumente der Firma R. Fuess
, Leipzig