Darkening Accessory for Fuess reflecting goniometers
R. Fuess, Berling-Steglitz
Darkening Accessory for Fuess goniometers, lacquered brass (partly lacquered black) and plush, in its leather-covered, dark red plush-lined case. Length 16 cm.
Fits on Fuess Models II, III, IV and IVa.
Unsigned, but only made by R. Fuess, ca. 1894.
private collection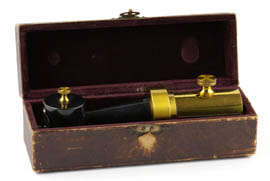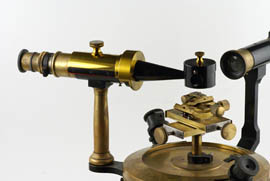 darkening accesory mounted on the telescope of the Fuess Model IV reflecting goniometer.
Reference:
Traube, H.
Eine einfache Verdunklungsvorrichtung für das Goniometer mit horizontalem Theilkreis
, Neues Jahrbuch für Mineralogie, II, pp. 1-2, 1894