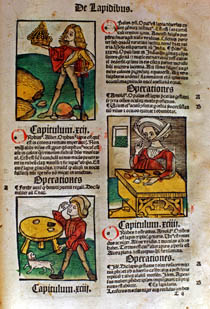 Newsletter archive
Subscribe to the Newsletter
Newsletter 2018/2

December 2018
Teylers Museum in Haarlem is the first and oldest museum in the Netherlands and the best-preserved 18th century natural history, science and art museum in the world. Thanks to the museum's interest in our Virtual Museum we are presently able to share pictures of very famous crystal models, a number of rare mineral labels and an interesting sample of malachite all of historical importance preserved at the Teylers museum. Please note that the accompanying pictures are copyright of Teylers Museum, Haarlem and may not be reproduced without their explicit permission.

Crystal models:
The Teylers museum holds the most important collection of the high quality crystal models produced by Haüy to illustrate the atlas drawings of his "Traité de Minéralogie" (1801). These wonderful pear wood models were bought between 1802 and 1804 by Martinus van Marum, then director of the Haarlem institution, and 565 of them (of ca. 600) are still present in the collections. The first and fifth photo of our series link to a higher resolution one that may be enlarged to highlight the details of these models and the layout in the wonderful original oval room of the museum.

A series of small terracotta crystal models was manufactured under the direction of Romé de l'Isle by its coworkers to promote the sale of his expensive "Cristallographie" (1783). The collection bought by Martinus van Marum still resides in the museum. Most of the photos link to a higher resolution version that may also be enlarged to allow identification and to fully appreciate the quality of this production. It is worth to remember that Carangeot invented and designed a prototype of a contact goniometer during the manufacture of these models.
A mid 19th century collection of numbered plaster models made by L. v. Rössler is also present at the Teylers Museum. The models are kept in a wooden box containing two trays; one with models illustrating the combination of forms and one with models of twinned crystals. The series is described in an accompanying booklet referring to the crystal systems of Mohs and Naumann.
Archive:
We also had the opportunity to add two items to the archive :
Some selected examples of a large collection of manuscript specimen labels preserved at the Teylers Museum where they are associated with the corresponding minerals. All this material comes from the mineralogical or geological collections of prestigious persons of the 18th century (physicians, naturalists, mineralogists, geologists …) famous for their scientific work, discoveries and/or writings such as Barthélémy Faujas de Saint-Fond, Horace Bénédict de Saussure, Jacob Forster and Martinus van Marum to cite only a few.
We also present a Malachite specimen from Catharinenburg in Siberia (on display in the central cupboard in the oval room of Teylers Museum). It comes with a manuscript label by J. le Francq van Berkhey, an 18th century painter and scientist. Interestingly, this very specimen is depicted in Martinus Houttuyn's book (vol. 37) on natural history.
Spectroscopes:
On the other hand, our faithful Belgian contributor and collector of spectroscopes recently acquired and shared with us 5 new english instruments produced by J.A. Hilger, John Browning, Beck and Rayner :

Claude Hootelé, Paul Tambuyser
info@mineralogy.eu