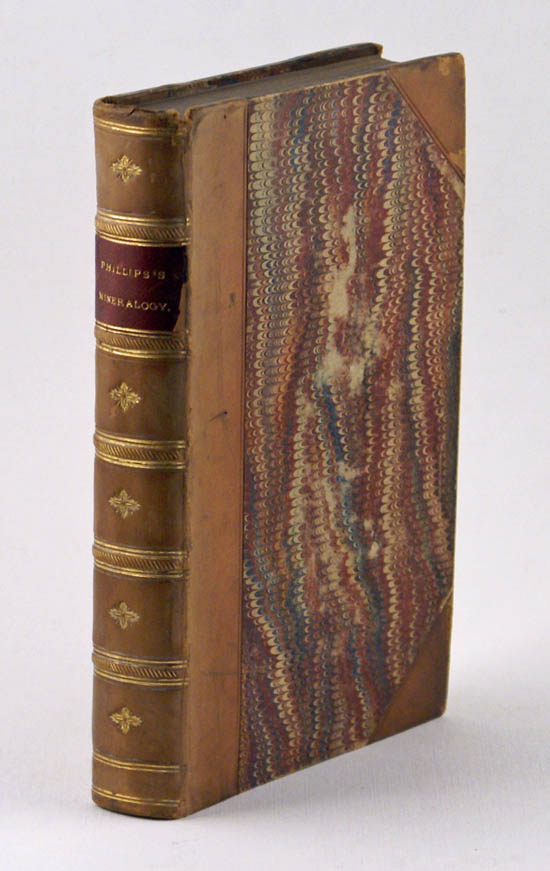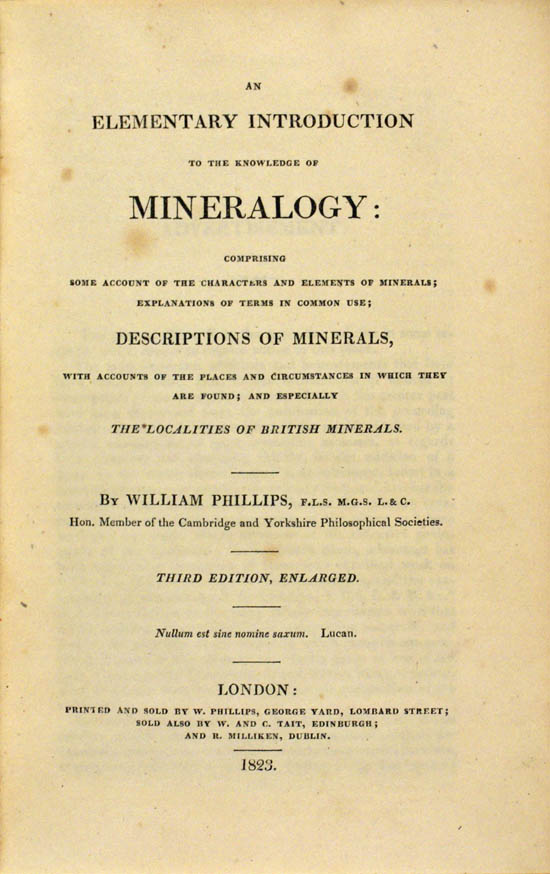 An | Elementary Introduction | To The Knowledge Of | Mineralogy: | Comprising | Some Account Of The Characters And Elements Of Minerals; | Explanations Of Terms In Common Use; | Descriptions Of Minerals, | With Accounts Of The Places And Circumstances In Which They | Are Found; And Especially | The Localities Of British Minerals. | By William Phillips, F.L.S. M.G.S. L.&C. | Hon. Member of the Cambridge and Yorkshire Philosophical Societies. | [rule] | Third Edition, Enlarged. | [rule] | Nullum est sine nomine saxum. Lucan. | [rule] | London: | Printed And Sold By W. Phillips, George Yard, Lombard Street; | Sold Also By W. And C. Tait, Edinburgh; | And R. Milliken, Dublin. | [rule] | 1823
Collation:
4°: [8] a-b
4
a-p
4
A-3E
4
; [8] [1] ii-v [3] [1] ii-cxx [1] 2-406 [2] p., 1 plate
Plates:
1 folding engraved plate signed "R. Knight, del.
t
" and "Ovendens Sculpt."
Page size:
125 x 193 mm
Binding:
contemporary half calf over marbled boards, with gilt lettering and ornaments on spine and spine label. Printed on inside front cover "Bound By Carrs & Co."
Provenance:
autograph inscription "Walter Crum"
Other editions:
1816, 1819, 1837, 1844, 1852
References:
Schuh 3700
Collection:
private collection